Teacher Gia fucks her students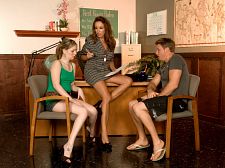 "The more I have sex in front of the camera, the more I like it," Gia Giancarlo said. "It was never scary, but I never knew how much fun it was until I started to do it. I'm always up for having some fun, especially when it's sexy fun."
Gia still has the body and sex drive of a woman half her age.
"I go to the gym a lot," she said. "I like to work up a good sweat, and on top of helping me keep this figure, I feel good when I'm done."
Of course, there are other activities that help work up a good sweat and make you feel better, and Gia likes those, too.
"The reason I chose to do this is I love to fuck. It's really not much more difficult than that. Anytime I can suck on a cock or have a guy fuck me until I cum hard, it's a blast for me. I've met a lot of great people doing this and have had a lot of fun. But the reason I keep doing it is because I love the feeling I get from sex. And I love that at age 53, you still want to see me do it!"
This scene takes us back to high school. Teen Jayden and her boyfriend are fucking in the boys room when Gia, their teacher, catches them. She tells them there's no cock sucking in the boys room. Jayden tells her to stop being so uptight. Gia proves she isn't by getting in on the action. It's a good deal for everyone, and nobody has to do detention.