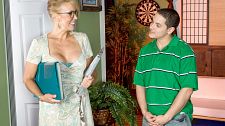 "My kids are always saying to me, 'Mom, you're so boring. Why don't you loosen up a little?'" said 50something California housewife/MILF Erica Lauren. "They'll never know the truth!"
The truth is that Erica is a mom. She's a wife. She's a part-time executive assistant. And she's porn star, and that means she take big cocks up her tight asshole, too!
"I always knew I loved having sex while people watched," she said. "But over the past four years, I've discovered that I also love having sex in front of the camera, and the naughtier and nastier the better. Deep-throat blow jobs, DPs, getting fucked in the ass, sucking my ass juices off of a nice, hard cock…I'm down for all of that. Of course, my children don't know about my secret life. They still think I need to loosen up a bit. But I don't know how that's possible."
One of the great things about Erica is that she doesn't look like a porn star (or what most people think a porn star looks like). Sure, she's beautiful, but if you saw her at the mall or the grocery store, you wouldn't think, "Woman who loves to get her ass slammed on camera by young cocks." You'd think, "Pretty housewife." Also in keeping with that non-porn star image, Erica has a bushy pussy.
So here's Erica playing a sexily dressed college admissions officer who shows up at a prospective student's house for an impromptu interview. The student seems like a total deadbeat, sitting around playing video games, but the school must really want him because Erica puts her ass on his cock to get him to sign up. And if he doesn't, well, we don't think that Erica will have a problem spreading her horny ass for the next prospect.